HOW DURABLE IS YOUR GEMSTONE?
Since we make lots of custom designs using a wide variety of Colored Gemstones, I wrote this blog to help answer questions we get about the durability of various Gemstones. Here is Laurie Sarah's Gemstone Durability Chart!
To understand the durability of a gemstone, there are a few factors to consider. After we discuss these, I'll explain how this translates into our Durability Chart.
MOHS SCALE
First introduced in 1822, the Mohs scale rates the hardness of gemstones and minerals based on their resistance to scratching, or on how they respond to contact with a sharp point. The higher the number a gemstone has on the Mohs scale, the more durable it is. And the more durable it is, the more suitable it is for use in frequently worn jewelry. However, a gemstone's hardness is different from its toughness, which is based on how well a gem can resist breaking, cracking, or chipping.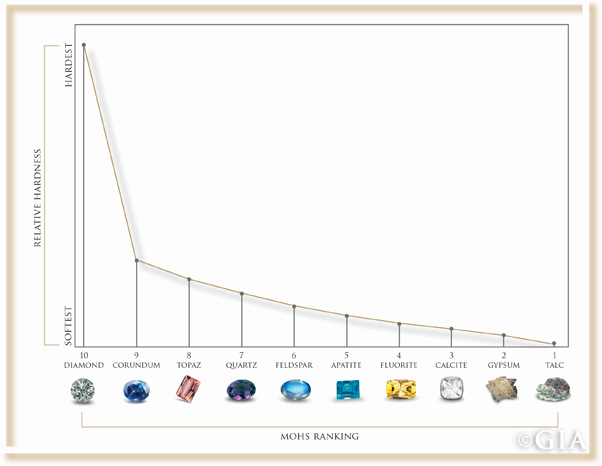 One important factor to keep in mind when looking at the Mohs scale is that the difference in hardness between minerals is not equal, even though the minerals look to be equally spaced. For example, although Diamonds are only one number away from Sapphires and Rubies (varieties of the Corundum mineral), they are many times harder than those two gemstones.
Picture and information courtesy of GIA: GIA's Mohs scale
HOW YOU WEAR YOUR JEWELRY
How you wear your jewelry has much to do with whether your gemstones get scratched, chipped, or broken. The basic principle to keep in mind is that your genuine gemstone jewelry is a fine work of art that must be treated carefully. I know many of you never want to take your gems off and I completely understand that. But if you lift weights at the gym, scour your sink with harsh chemicals, garden, or do other activities that expose your gemstones to bumps, hits, chemicals etc., you can expect they might get damaged.
If this happens, remember, with Laurie Sarah you always have our Lifetime Care Plan so we'll take care of you. The gentler you treat your beauties, the longer they will last.
HOW YOU STORE YOUR JEWELRY
When you take your fine gemstone jewelry off, always make sure you store it in a safe place. Each piece should be stored separately – ideally in a soft jewelry pouch. This prevents your pieces from bumping and scratching together.
OK, SO WE'RE READY TO TALK ABOUT THE LAURIE SARAH DURABILITY SCALE! Please understand that this scale is based on the factors discussed above, but does not in any way guarantee that it is all encompassing as to the durability of your gemstones. Life happens. Even the most durable diamonds can be damaged. But this gives you a good idea of what to expect.
EXCELLENT – This means your gemstone or diamond is very good for everyday wear. We grade only sapphires and diamonds as "excellent". Sapphires are 9 on the Mohs scale, Diamonds are 10. We recommend that all engagement rings and everyday wear jewelry be created with diamonds or sapphires if possible.
VERY GOOD – We use this rating for gemstones that are 7.5-8.5 on the Mohs scale. With care and gentle wear, your jewelry created with these gemstones should hold up very well. It can be considered for everyday wear, but only with gentle care.
GOOD – We use this rating for gemstones that are rated 7-7.5 on the Mohs scale. Please exercise more care with these gemstones. If you choose gems for your jewelry from these, you may expect periodic needed repairs.
FAIR – We use this rating for gemstones that are rated below 7 on the Mohs scale. Wear these gemstones very carefully and do not be alarmed if you need more frequent repairs to scratched, chipped, or broken gemstones.
FRAGILE – These gemstones are absolutely not recommended for everyday wear. Even careful wear may not be enough to prevent scratched, chipped, or broken gemstones. These gemstones are certainly beautiful and symbolic to our wonderful clients, so by all means, use them. Just don't be alarmed if you need frequent care. Remember, we are here for any of your jewelry needs!
Sincerely,
Laurie Sarah
LIFETIME CARE PLAN
Click here to read all about our Lifetime Care Plan and how we promise to be your Jeweler for Life, taking care of all your jewelry needs!
Keep your jewelry looking like new with our Foam Jewelry Cleaner. Safe for ALL metals and gem durabilities!